Weddings | High Schools | College | How to Hire Us | Contact Us | Customers
References | Client Area | Meet Our Entertainers | Links | Home
---
Meet Our Entertainers
DJ Brett Anderson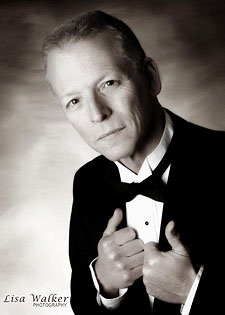 You have such a class act with your company, that I'd be a fool to go thru anyone else. You are always the first DJ/entertainment group I recommend. You are on the top of the list ALL the time. We go back a long way and I just want you to know how honored I am to be associated with you in this industry. You are a true professional and a huge asset to your field.
-- Teddy Lenderman, Bearable Weddings and Events
Mr. Anderson really made our day perfect. We asked him not to play certain music and gave him ideas of how we would like the wedding to go; he followed our requests so well. He even went along with this skit that my husband and I prepared on short notice. I had people coming up to me at the wedding telling me that Mr. Anderson was doing a fabulous job because the music was just right... not too old and not too young... a perfect mix. It was a beautiful wonderful night thanks to Mr. Anderson! -- Michelle, Bride
Click here to watch Brett in action at some recent, area wedding receptions. (Windows Media)

Brett started his mobile DJ career in 1981 while attending Indiana University School of Telecommunications. During his time at I.U. he served as an On-air Director at WTIU Television and took courses in radio and television production. His original reason for becoming a DJ was to gain experience for entering the radio and television industry. Upon graduation he decided he liked being his own boss and made The Dance Machine a full time venture!
The first few years he did primarily high school dances. Brett then branched out and added nightclubs and college parties to the mix. Over the years he has worked at numerous south-central Indiana nightclubs.
Finally Brett was ready to tackle the toughest events of all, wedding receptions and corporate parties. Since 1985, he has performed at hundreds of each and they are now his favorite shows. He really enjoys getting guests involved and encourages their participation with superior microphone skills and occasional use of audience members. Brett's philosophy is: "People come to see you, the bride and groom, not to watch me perform. I can do a wide range of activities, from group dances to skits involving guests in costumes, but do only activities approved by YOU! So, if you don't want the chicken dance you won't have to suffer through it."
Brett enhances an already fun, yet classy, atmosphere through the use of high quality sound and lighting equipment. His system can be tailored to your event, from a small intimate wedding ceremony to large outdoor parties, he can accommodate almost any size or type of gathering.
As owner of The Dance Machine, Brett is involved in all aspects of the business from advertising to disc jockeying. In the 1980s, he developed The Dance Machine Disc Jockey Training Program and has instructed many DJs over the years. Brett is one of the few DJs in the area who has worked in the business consistently for over 20 years. He continues to update and improve his performance through yearly attendance of national DJ conventions.
To reserve DJ Brett Anderson for your event, call or email The Dance Machine:
812-318-0713 anderson@bloomington.in.us.
Return to Main Entertainers Page
---
Weddings | High Schools | College | How to Hire Us | Contact Us | Customers
References | Client Area | Meet Our Entertainers | Links | Home