Weddings | High Schools | College | How to Hire Us | Contact Us | Customers
References | Client Area | Meet Our Entertainers | Links | Home
---
Meet Our Entertainers
DJ Chris G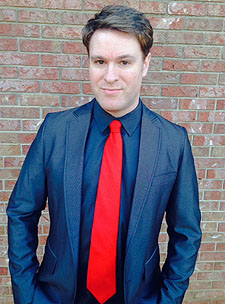 Not only was the music fantastic, but Chris did a fantastic job keeping everything moving and organized. We threw some changes at him at the last minute and he responded perfectly. He really made our wedding an awesome party. -- Kate, Bride
With over fifteen years of successful events to his credit, Chris G has the experience to help you plan and coordinate the perfect party. He specializes in weddings, but he's also available for corporate events, school dances and family events such as bar mitzvahs, birthday parties and more. He can also provide sound reinforcement for wedding ceremonies.
Chris provides exceptional customer service by working closely with you and your vendors to ensure that your event timeline flows smoothly. He's fun, energetic and will keep your guests engaged, spinning popular tunes of every genre from a library of over 10,000 songs. He is up-to-date with the latest technology and can download or stream virtually any song that's not already in his extensive library – he even runs the entire show with an iPad! Chris is a singer as well, so just ask and he will be happy to sing for your wedding ceremony or perform a song to entertain your guests during the party at your request.
It's your party and he will play the music that you and your guests request, in addition to avoiding music that you specify not to be played.
Chris uses the highest quality speakers available, a top-of-the-line Bose sound system powerful enough to rock all your guests, but discreet enough to compliment your special moments. His rig also features wireless mics and LED lighting. He has a complete back up of speakers and music sources, so you never have to worry about equipment failure ruining your event.
To reserve DJ Chris G your event call or email The Dance Machine:
812-318-0713 anderson@bloomington.in.us.
Return to Main Entertainers Page
---
Weddings | High Schools | College | How to Hire Us | Contact Us | Customers
References | Client Area | Meet Our Entertainers | Links | Home