Weddings | High Schools | College | How to Hire Us | Contact Us | Customers
References | Client Area | Meet Our Entertainers | Links | Home
---
Meet Our Entertainers
DJ Tom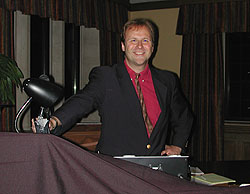 Hi Tom, Just writing to thank you for your amazing job this weekend! I was so, so happy with how the reception turned out and the music was everything I wanted and the dance floor was never empty! We got so many compliments on the music, so thanks so much for doing an outstanding job both as the MC and helping us throw an awesome party!!Take care & thanks again!! -- Beth, Bride 10/24/15
The students were very pleased with the music. A lot of them danced most of the evening. We were very pleased! I would recommend you to others. As far as I'm concerned, you are hired for next years prom. Thanks for the great service. Tom did a great job! -- Mary Jo, Prom Sponsor"
DJ Tom began his career as a mobile DJ in the mid-90's, learning his craft from the Dance Machine's founder, Brett Anderson. "The first time I did a gig on my own", reminisces Tom, "our clients had requested in advance that we do the Chicken Dance. I thought there was no way I was going to get a group of grown people to do that! They not only Chicken Danced and loved it, but they rocked all night long. I knew I had found a home."
Tom enjoys all types of parties, from wedding receptions and anniversaries to birthdays to college parties. If you're celebrating, he wants to help you celebrate in style, with your favorite music. The Chicken Dance is completely optional, of course. Tom is ready to DJ your way: "Some people want a wild and crazy DJ who gets people involved, which is something I really enjoy doing. But others feel that their occasion calls for a more laidback DJ/MC, while a few clients may just want you to shut up and play the music. Not a problem. I mean, here I am playing the music that makes people happy. How could you not love this job?" He also loves to share his years of experience in helping to make sure your event runs as smoothly as possible, especially wedding receptions. You're in good hands, so you can relax and have fun!
Tom's 10,000+ song collection of music includes the latest pop, country and R&B, updated each and every month, as well as oldies stretching back to the 40's. Whatever style of DJ'ing you prefer, Tom will dig deep to find the music that best complements your occasion --and keeps 'em dancin'! His carefully chosen audio system will rock the house -- or whisper sweet music during dinner. All key components are backed up -- just in case. Tom's light show is subtle but effective, lending just the right touch of party atmosphere without taking over the party. "Well, sometimes things get a little crazy when the strobe light is going," he offers, "just to be honest". Tom is also available for karaoke, because "I think everybody who wants to sing should get the chance!" (Note: Please request that Tom brings his karaoke system when you book your event.)
Also a musician, songwriter, and producer of his own music, Tom loves everything that has to do with great music and great sound. And he really loves that his job is all about you having fun with your friends!
I just wanted to let you know what a great job Tom did at our daughter's wedding. He did a great job as emcee plus the true test of a DJ is the participation on the dance floor. Not sure if you felt the mini-earthquake, but the dance floor was still rocking until the end! Thanks again! - Ed, Father of the Bride 5/24/14, wedding reception @ IMU Tudor Room
We heard comment after comment about how good you were. The songs you chose were perfect, the volume was great, and you were wonderful with the microphone announcing everything. Even my grandmother commented and thought you were really good...that's pretty good if you got her approval! :) With everything being so crazy for us that day, we really appreciate how smoothly you made things run. -- Ted and Holly, bride and groom
Tom was EXCELLENT. We received many comments from guests how polite and professional he was (this was a bit of a reserved crowd). We will definitely recommend the Dance Machine to anyone we hear that needs your services - and would certainly recommend our DJ Tom. -- Sharon, Mother of Bride
The DJ obviously knew the photographers and the facility coordinator. This made a significant impression on me because the entire evening had a great flow. Tom worked really well with everyone and did a GREAT job running the show. Even with a last minute change due to rain, Tom was flexible to meet our needs.
-- Eric, Groom
Reasons for hiring: Great service in the past
Comments: I will be contacting for next years dance. -- Liz, School Teacher
Fantastic job. Everyone loved it. -- Mike, Groom
Great job! Everyone had a good time! -- Audrey, Quad Student Government
Brett and I agreed that Tom would be the best for our crowd and Brett was right! I'm just sorry that I can't have another party next week. We had so much fun! It was a great venue and everyone said how much they enjoyed themselves and commented particularly on how great, friendly and open to requests Tom was. -- Karen, Mom (Bar/Bat Mitzvah)
Reasons for hiring: The Dance Machine seemed to be the most professional DJ service in the area. Also, the price was right.
Suggested Changes: None -- Heather, Bride
Tom was EXCELLENT! Everyone complimented us on how great he was. Thank you so much for making our wedding a blast!!! -- Holly, Bride
To reserve DJ Tom for your event, call or email The Dance Machine:
812-318-0713 anderson@bloomington.in.us.
Return to Main Entertainers Page
---
Weddings | High Schools | College | How to Hire Us | Contact Us | Customers
References | Client Area | Meet Our Entertainers | Links | Home